The Millbrook Public Library currently hosts our "Heritage Cabinet".
The heritage display cabinet restored by MCHS Board member Peter Ramsay. The cabinet once displayed haberdashery at Fowlers Mens Wear in downtown Millbrook, and will house special Historical Society displays of local artifacts. We thank the library for being so welcoming.
---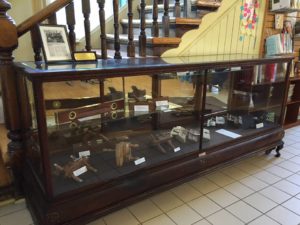 Origin of our Carpenters' Tools
The first display housed in our cabinet at the Millbrook branch of the library featured the carpenters' tools donated in March 1984 by Freda Weaver of Fort Collins, Colorado.  The tools belonged to her grandfather, Walter Nicholls, the first carpenter-journeyman to live and work in the Millbrook area.
When we let Freda Weaver know that the tools were being featured, she responded with information about her family history here.
"To tell the story of my grandfather I must first start with my grandmother, Henrietta Grimshaw, born 1889 in Manchester, England.  She was one of the many orphans sent to Canada to work on farms.  In 1901, at age 11, she was sent to the Hunter farm near Millbrook (on what is now the Challice Line).  This farm was run by two of the Hunter siblings, Annie and John D.  The Hunter family also ran a boarding house at 191 Sherbourne Street in Toronto, and in the winter months, my grandmother would be sent there to work, returning to the farm in the good weather.  This is how my grandmother would meet my grandfather.
"My grandfather, Walter Nicholls, immigrated to Canada in 1910, after apprenticing in England for 10 years in carpentry and cabinet-making.  Destination: Toronto, where his skills meant he went immediately to work.  He may have worked at various different places but it has been verified that he was on the crew that built the Oddfellows Building at 229 College Street, which still stands today.
"Sometime in 1911, Walter Nicholls' address became 191 Sherbourne Street, so Freda Weaver assumes that her grandparents met there.  In 1914, his address changed to c/o the Hunter Farm, Millbrook, and in 1915, Freda's mother was born there and in time, attended the Carmel School.
"My mother said that my father built several houses in the area.  She pointed out a couple to me but the people who owned them had never once put a coat of paint on them.
"In 1923 my grandparents and my mother left the farm for Port Hope, where my grandfather went to work for contractor Thomas Garnett & Sons.  My grandfather worked for them until his retirement in 1957 or 1958.  In 1924 it was Thomas Garnett & Sons that built Vincent Massey's home, Batterwood at Canton. It was my grandfather himself who built the staircase there, using the very planes you have in the cabinet.
"I remember my mother telling me that there were more planes than the ones you have now but some of his fellow carpenter friends came by after he died in 1971, borrowed them and never returned them.  If I remember right I believe she said there was about 23 or 24 of them originally."
Walter Nicholls worked on many projects, among them the Port Hope High School, the Capitol Theatre, and the clock tower on what is now Russel House at Trinity College School.  He built his own house at 72 Francis Street in Port Hope, and another immediately to the east for a colleague.
---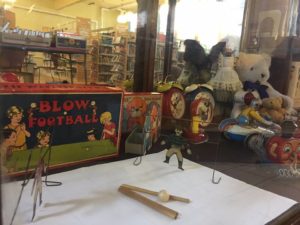 Our Toy Display
A collection of vintage toys have been donated and are currently on display in our Heritage Cabinet at The Millbrook Public Library.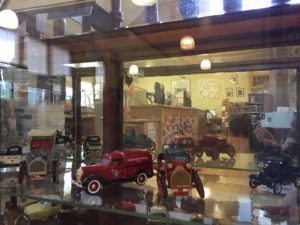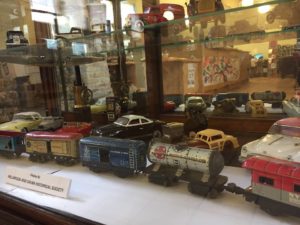 ---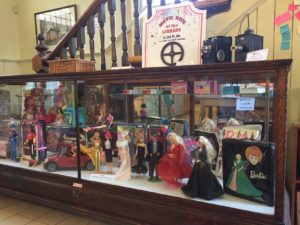 Our Barbie Doll Display
A collection of vintage Barbie Dolls and accessories have been donated and are currently on display in our Heritage Cabinet at The Millbrook Public Library
---