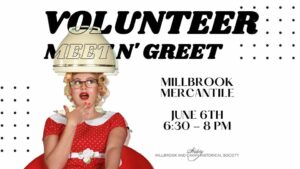 Come meet your friends at the Millbrook and Cavan Historical Society for a meet and greet! If you have time and talent to offer, we want you!
We have volunteer roles that are ongoing or casual. We are happy to have students looking to complete their volunteer hour requirements.
Types of Volunteer Opportunities:
– Top Secret Theatre Production Committee
– Events / Programming
– Membership Coordinator
– Communications – photography, videography, social media
– Archive / Collection Management
…and more!